Oregon AAU

Girl's Basketball


Oregon Commissioner

Diane Wenger

541.485.5474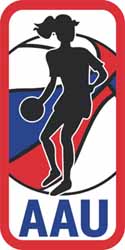 Oregon District AAU

Girls Basketball Clubs

Local AAU clubs hold tryouts and place players on teams.

To find a club in your area to contact

If your child wants to play AAU sports you can place his/her name on a list that coaches use to find players for their teams.

Save the date:

Oregon AAU Girls Basketball

State Championship

District Qualifying Tourament

April 12-13, 2014

Springfield High School, Springfield, Oregon

Grades 4-12

Teams must participate in a State DQT in order to advance to an AAU National Tournament.

Tournament Flyer and Resgistration Form

This event is sanctioned by the Amateur Athletic Union of the U.S., Inc.

All participants must have a current AAU membership

WathMEvents "Live" presents

MEMORIAL DAY TOURNAMENT

May 24-26, 2014 - Beaverton, Oregon

Girls 11U, 12U, 13U, 14U, 15U, Open Division, 17U Elite

This event is sactioned b the Amateur Athletic Union of the U.S., Inc.

All participants must have current AAU membership

UPCOMING AAU TOURNAMENTS IN OREGON

February 15-16 - 5th Annual For The Love Of The Game

  Hermiston, OR

April 12-13 - State Chambpionship DQT - Eugene

May 24-26 - Memorial Day Tournament, Beaverton, OR

July 17-20 - 2014 AAU West Coast National                       Championship, Las Vegas NV -
Click here for info